Buffalo Bill Cultural Center & Bronze Sculpture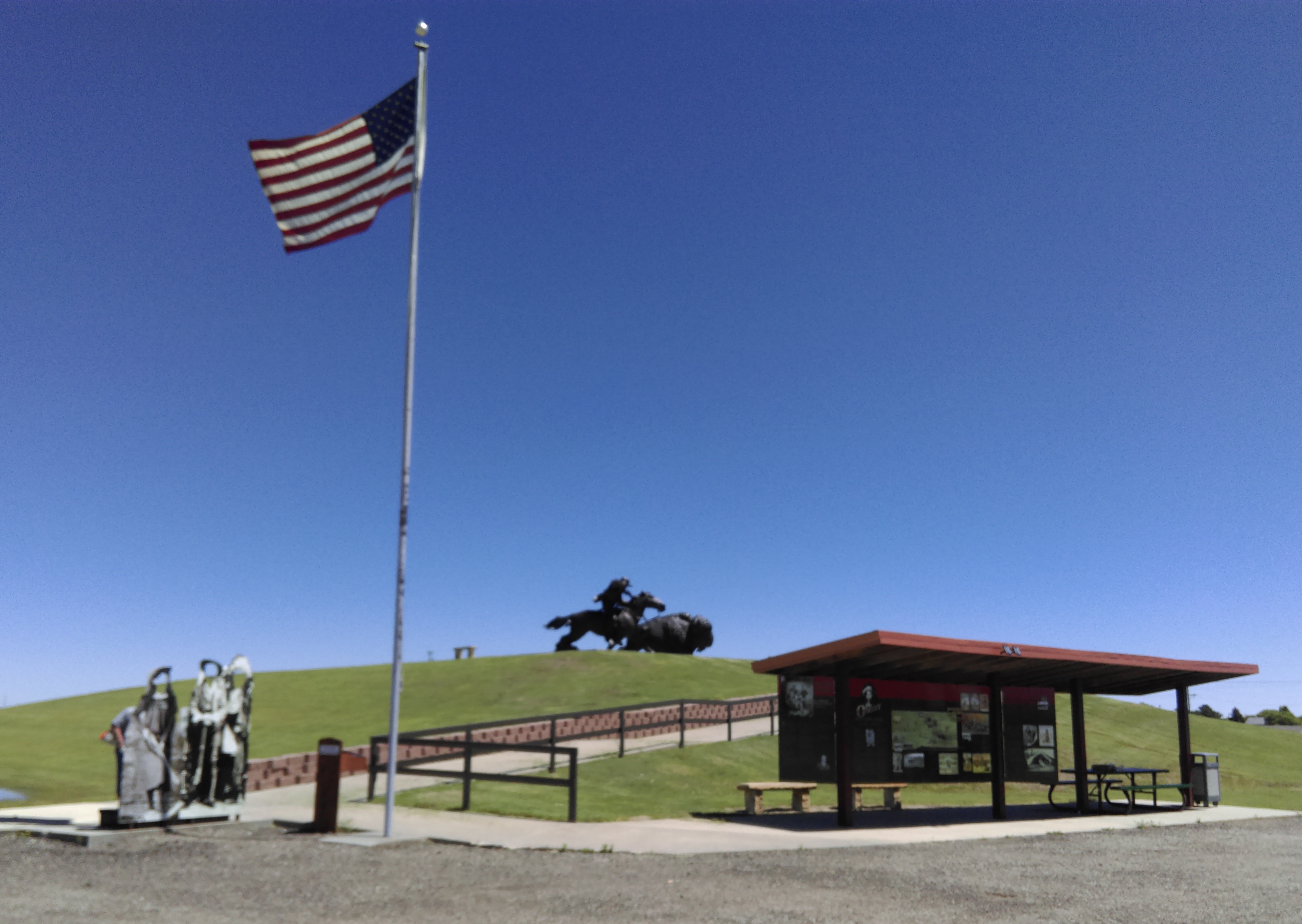 Location: US-83 and West 2nd Street in Oakley, KS. It is parallel to US-83, ½ mile north of US-40. Approximately 4 miles south of I-70 at Exit 70, and 4 miles west of I-70 at Exit 76 Buffalo Bill Cultural Center and City of Oakley Tourism 3083 US-83 785-671-1000
GPS Coordinates: N 39º 07.609' W 100º 52.169'
Intrinsic Qualities: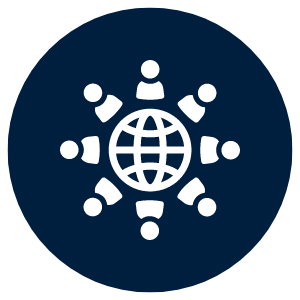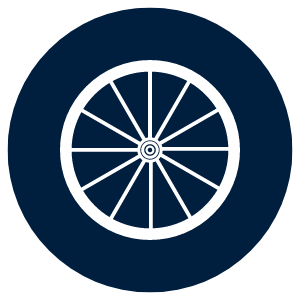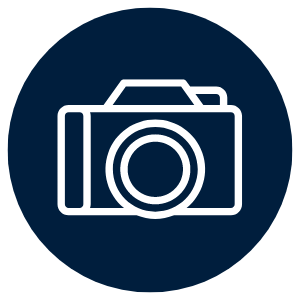 Site Logistics:
The sculpture is easily accessible and free to the public 24/7
The sculpture is displayed on a large manmade hill adjacent to US-83 and 2nd Street in Oakley
A handicap accessible concrete walkway with handrail leads to the sculpture
The walkway and sculpture are illuminated at night
Large covered outdoor storyboard featuring local history
Several benches are available for the public's use
A covered picnic table is available
The parking lot is made of ground asphalt and can easily accommodate RV's and buses
In 1868 William F. Cody, "Buffalo Bill", earned his living as a contract buffalo hunter feeding the crews laying the first railroad track across Kansas for the Kansas Pacific Railroad. At the same time William Comstock, who was also called "Buffalo Bill" by the soldiers at Fort Wallace, made his living providing buffalo meat to feed the soldiers at Fort Wallace. A contest was staged just 10 miles west of Oakley, in Logan County, Kansas, to determine who best fit the name "Buffalo Bill". Bill Cody won with 69 buffalo to Comstock's 46 buffalo harvested in one day. On that day, in the spring of 1868, the legend of "Buffalo Bill" Cody was born! By the turn on the 20th century "Buffalo Bill" Cody had become one of the most famous people in the United States and the world and shaped the world's image of the west with his "Wild West Show".
Logan County is proud of its heritage and the fact that one of the most famous persons of "American lore" earned his "Legendary Title" in Logan County. After authenticating this story in 1999 from Dr. Paul Fees, curator for 20 years at the Buffalo Bill Historical Center in Cody, Wyoming, the idea was conceived to create a twice life size bronze sculpture to memorialize the event that took place in Logan County.
The Wild West Historical Foundation, Inc., a non-profit 501(c) 3 Corporation, was established to create and promote a "Wild West" experience. Sculptors Charlie and Pat Norton of Leoti, Kansas, were selected to create a bronze sculpture. Buffalo Bill is mounted on his favorite buffalo running horse, "Brigham", in hot pursuit of a buffalo. The sculpture weighs 9,000 pounds and stands 16 feet high. It was first formed with clay and then broken down into more than 100 pieces to be individually cast. This lost wax method of sculpting, taking 3 years to complete, enabled the amazing detail seen today.
The monumental Buffalo Bill Sculpture was dedicated May 22, 2004. In 2006, the Buffalo Bill cabin was placed at the location to serve as an Information Center and Gift Shop. In 2007, the Kansas Humanities Council awarded a $15,000 grant to install a large outdoor storyboard featuring local and regional history. In 2008, the Buffalo Bill sculpture was chosen as one of the "8 Wonders of Kansas Art". The site draws many visitors from around the world annually and Buffalo Bill's story is, of course, an ideal vehicle for interpreting the era.
The new Buffalo Bill Cultural & Visitor Center is the mid point of the byway and offers visitor information and a gift shop. The center also has meeting rooms for parties of up to 300 or more.
Buffalo Bill Cultural Center
3083 US Hwy 83

Oakley Kansas 67748
Phone: (785) 671-1000
Email:

info@buffalobilloakley.org
Web:

www.buffalobilloakley.org
Facebook:

www.facebook.com/BuffaloBillCulturalCenter
Hours of Operation:
Monday-Friday: 9:00 a.m. – 5:00 p.m.
Saturday: 11:00 a.m. – 5:00 p.m.